A cluttered and disorganized work environment can hinder productivity, creativity, and overall employee satisfaction. As a business owner or manager in Tukwila, you understand the importance of maintaining a clean and efficient workspace. That's where 99 Junk Removal comes in. Our professional and affordable junk removal services can help you enhance your work environment, boost productivity, and create a positive atmosphere. Read on to learn more about our services and how we can benefit your business.
At 99 Junk Removal, we take pride in delivering exceptional service to our customers. Jessica Olson shared her positive experience with us on Google, stating, "I can not say enough good things about 99 junk removal! Scott was awesome! Fast, efficient, he was very careful and had a fair price! I will definitely be using them again. Thanks Scott 👍" We value customer feedback and strive to provide the same level of professionalism, efficiency, and fair pricing that impressed Jessica. Trust us to make your junk removal experience seamless and stress-free.

To create a clutter-free and productive work environment, it's important to remove unnecessary items. Here are five common things we can help you remove:
Old Furniture: Replace outdated or worn-out office furniture to create a fresh and modern workspace.
Electronics: Dispose of old computers, monitors, printers, and other electronics in an environmentally friendly manner while making space for upgraded equipment.
Paper Clutter: Clear out stacks of paper, files, and documents by implementing digital storage solutions and recycling unneeded paperwork.
Outdated Equipment: Upgrade your office equipment by removing old copiers, fax machines, or other outdated technology that no longer serves your business needs.
Excess Inventory: Streamline your operations by removing excess inventory, outdated products, or unused supplies, freeing up valuable space for more efficient storage.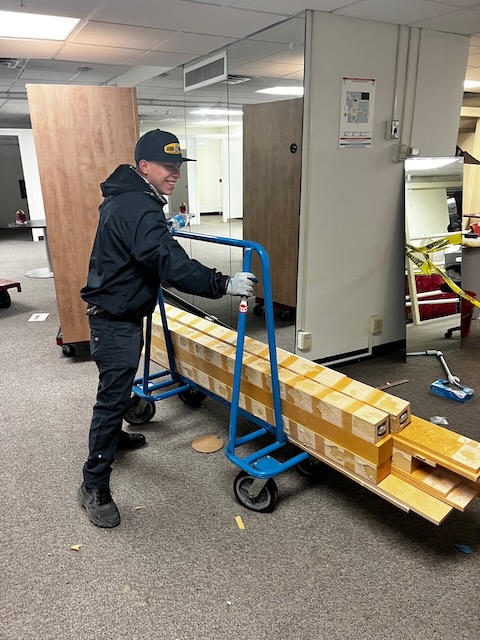 At 99 Junk Removal, we understand the value of efficiency and cost-effectiveness for businesses in Tukwila. Our experienced team works diligently to provide swift and reliable junk removal services, minimizing disruptions to your daily operations. We also offer transparent and competitive pricing, ensuring you receive the best value for your investment. Trust us to deliver prompt and budget-friendly solutions tailored to your specific needs.

We are committed to sustainable practices and prioritize eco-friendly disposal methods. When you choose 99 Junk Removal, you can have peace of mind knowing that any items we remove will be properly recycled, donated, or disposed of in an environmentally responsible manner. Together, we can contribute to a greener future while improving your work environment.

Elevate your Tukwila business by partnering with 99 Junk Removal. Enhance your work environment, boost productivity, and create a positive atmosphere by removing common items such as old furniture, electronics, paper clutter, outdated equipment, and excess inventory. Experience the professional service that impressed Jessica Olson. Contact us at 253-722-4285 or click here to schedule an appointment. Trust us to provide efficient, affordable, and eco-friendly solutions, helping you transform your workspace into a productive and organized environment.