Why Choose 99 Junk Removal?
Here at 99 Junk Removal, our focus is on the things that REALLY matter: great customer service and true transparency for YOU, the customer. The industry standard is to charge by the truck load and by how much space ends up being used. At 99 Junk Removal, we give you a full breakdown of our charges before we do the job. Most junk removal customers pay for services without knowing the breakdown of what they are ACTUALLY paying for (labor, disposal fees, etc). Well, not anymore!
Seattle is the largest metropolitan area in Washington. So we understand there is a lot of scrap here! Our crew has many years of experience with junk removal in Seattle. Not only do we pick up, but we recycle too! We care about the community so much that we want to give back. Before going to the drop site, we make sure to go through anything that could still function. Not only do we take care of your junk, but we help out the community by giving back. We make donations to church organizations, shelters, and thrift stores. We are quick and efficient and will take care of everything!
Our Fees
Most junk hauling companies will give you a bill at the end of their work, with only the total included. You won't know exactly what you are paying for, which leads to unexpected services and hidden fees. They will often charge based on how much square footage in their truck your junk fills. With other removal and hauling services, then, you often wind up paying unexpected labor and disposal service fees without knowing ahead of time what the total will be.
That's not the case with us. With 99 Junk Removal, you know exactly how much you will be charged even before you pick up the phone.
Our fees are made up of only two things, Labor and Dump fees.
$99 for labor (no matter what!) + average dump fees ranging from $35 to $125
But couldn't you just do it yourself and save that fee? Yes, you certainly could, but would you really be saving money?
If you don't have a pick-up truck or trailer, which is the case most Seattle urbanites, you'll have to borrow or rent one. Then you'll have to burn gas to drive all the way out to the landfill, usually located far from town. Then on top of all that, you'll have to pay a dump fee, anywhere from $35 to $100. And don't forget to factor in your valuable time and labor.
So, most of the time, it's actually cheaper to hire 99 Junk Removal for hauling off your junk than to do it yourself.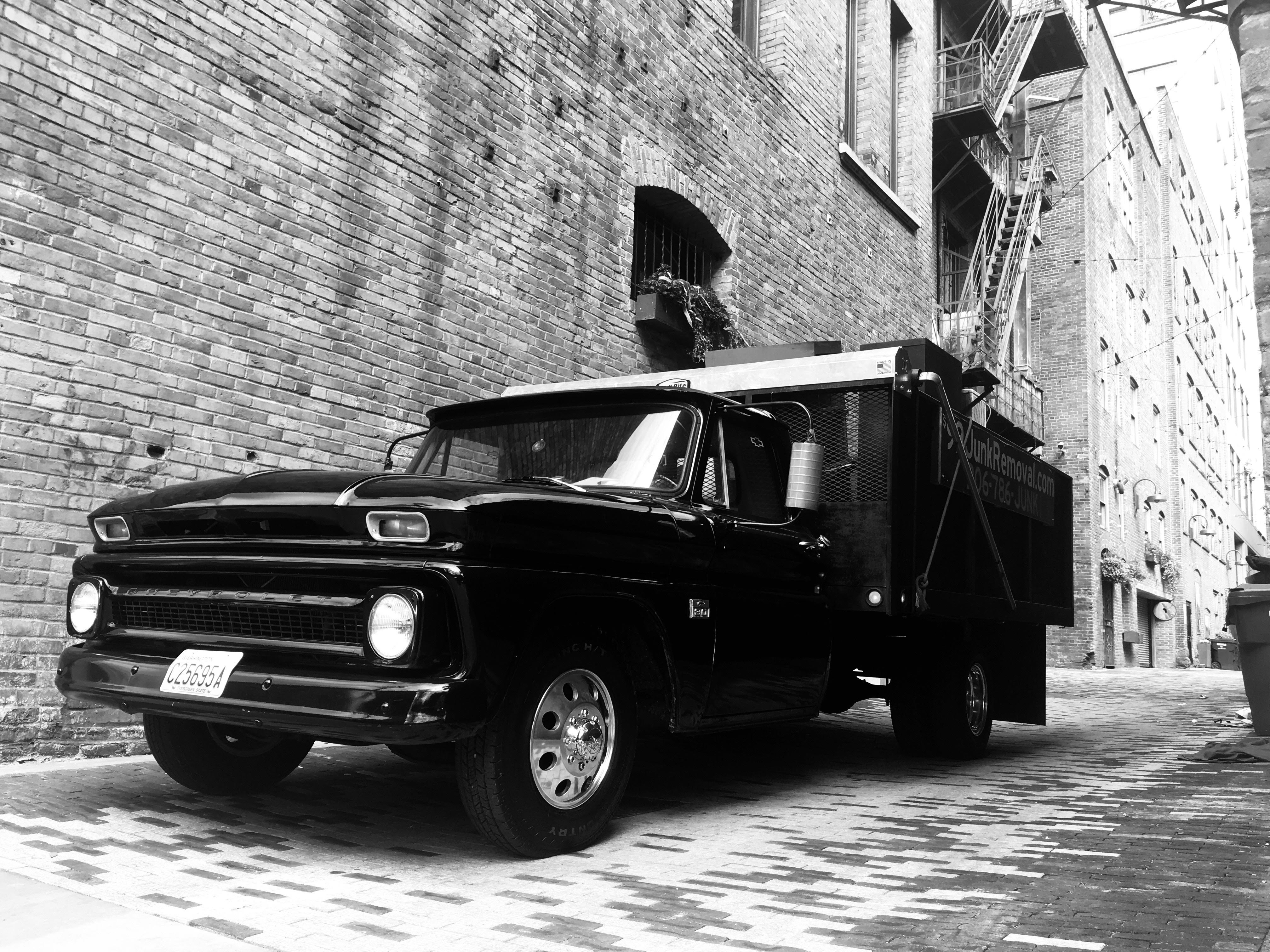 How We Haul: Our Trucks for Junk Removal in Seattle
At 99 Junk Removal, we strive to make junk removal as quick and easy as possible. So, all you have to do is have your items placed so that we can back our trucks up to them and haul them away.
We have the capability to haul anything from appliances and hot tubs to old packaging materials and chairs. Our trucks are equipped to do the job. They have 8×6 ft. beds and racks of varying heights to keep the junk we load up securely in place. We will haul anything that will fit on our trucks, and that includes both commercial and residential jobs!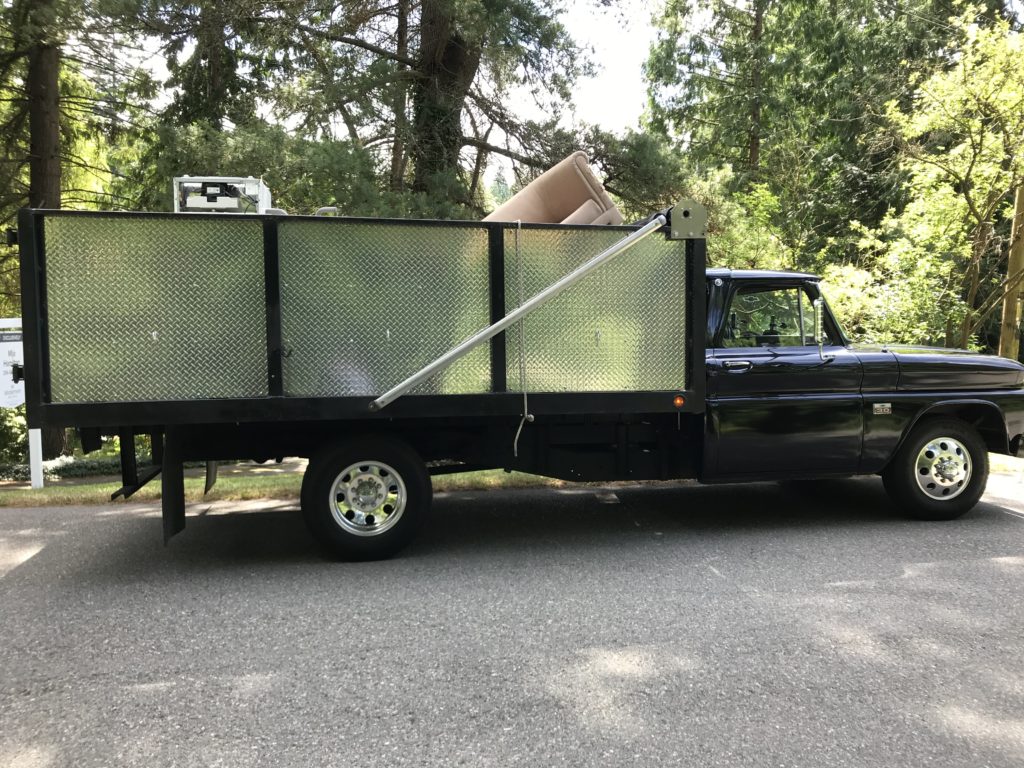 Is It Important to Use a Seattle Junk Removal Service that Will Recycle Appliances?
Yes, it does matter. At least at 99 Junk Removal we're convinced it does because certain appliances are especially bad for the environment and the people who live in it. For example . . .
Refrigerators and freezers manufactured before 1995 usually contain chlorofluorocarbons (CFCs). When these are released into the the atmosphere, they contribute to ozone-layer depletion and climate change.
Many window AC units contain hydrochlorofluorocarbon (HCFC). And this too when it escapes also has similar adverse effects on the environment.
The insulating foam used in refrigerators and freezers manufactured before 2005 contains ODS. This substance also contributes to ozone depletion and climate change.
Many household appliances also contain components that use hazardous oils, PCBs, and mercury in switches and relays. These toxins escape and leach into the soil and groundwater.
How Does Junk Removal in Seattle Work?
All you have to do is give us a call to set up an appointment and let us know what we'll be hauling. Then, before we arrive, you'll move your junk to an easily accessible area where it's reachable from our truck. That's it! We do all of the heavy lifting. We'll load your items onto our trucks and haul them away.
We load it up and haul it off, so you don't have to look at it anymore cluttering up your house, garage, or yard. All for that single fee that includes our vehicle, gas, and labor. A pretty sweet deal, really.
And what do you have to do to get our affordable Seattle junk removal? Nothing, except for picking up the phone and giving us a call at 253-722-4285.
Give Us a Call Today
Whether you have a few items that need removing or a full office clean out, 99 Junk Removal is the one for the job. With a highly experienced crew on staff, we are prepped and ready and willing to haul your junk for our low, one-time fee. We ensure that you won't only be helping yourself, but that you're helping your community and the environment as well. And we do it at a low and transparent cost. Give us a call today at (253) 722-4285 to make an appointment.
We also remove junk and trash from commercial and residential properties!
We take care of all the heavy lifting. Not only do we pick up the junk, but we load it too! Our trucks are ready for anything.