At 99 Junk Removal, we understand the importance of creating a welcoming and appealing atmosphere when preparing your Tacoma home for sale. Home staging plays a crucial role in showcasing your property's potential to potential buyers. One often overlooked aspect of effective home staging is proper junk removal. We're here to shed light on how clutter-free spaces can make a significant impact on your home's appeal and share how 99 Junk Removal can assist Tacoma homeowners in this process.
Customer Testimonial: Bree Kahn-Wetzel left a five-star review on Google, praising our responsiveness, quick service, and fair pricing. As Bree experienced firsthand, we're committed to delivering exceptional customer service to all our clients in Tacoma.
The Power of Home Staging: First impressions matter, especially when it comes to selling your home. A cluttered and disorganized space can deter potential buyers and make it challenging for them to envision themselves living in the property. Home staging transforms your home into a blank canvas, allowing buyers to see its true potential. However, achieving a beautifully staged home requires effective junk removal to clear out any unnecessary items that might distract from the overall appeal.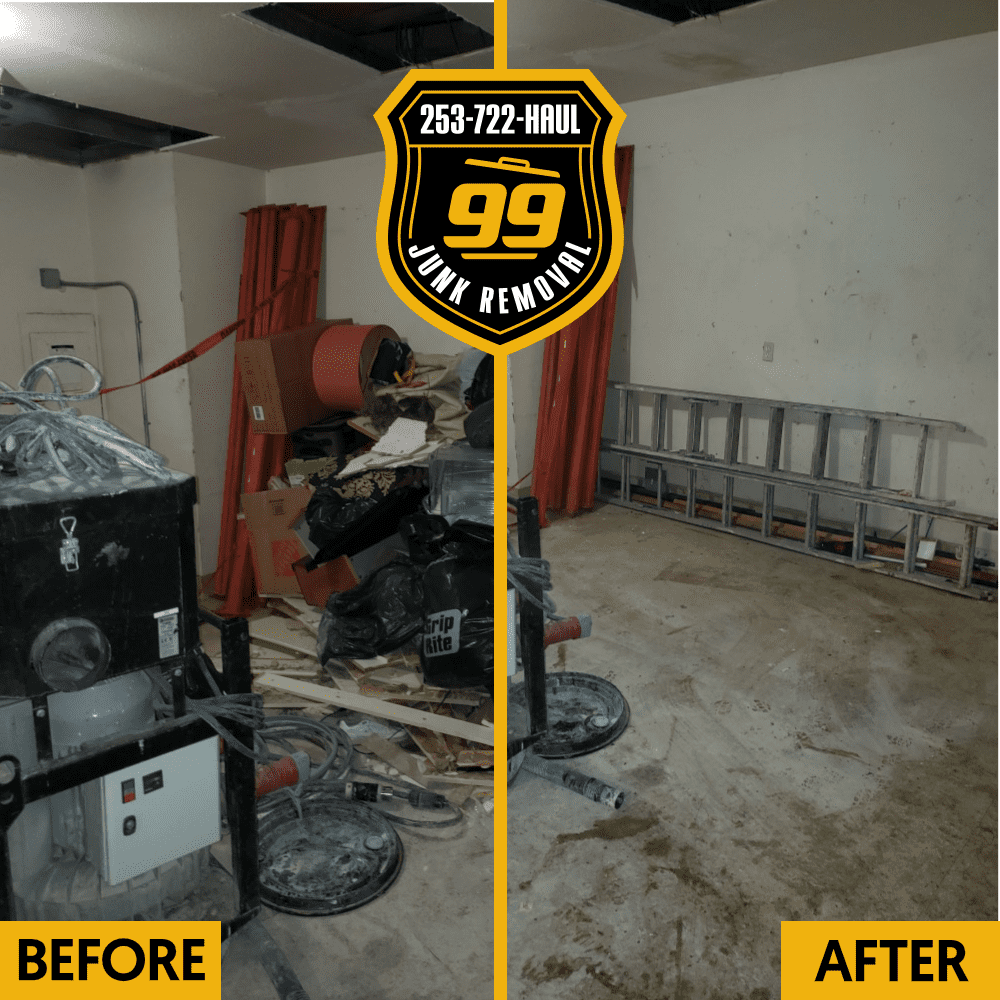 Why Choose 99 Junk Removal? When it comes to junk removal in Tacoma, 99 Junk Removal stands out for several reasons:
1. Affordability: We understand that preparing a home for sale can be financially demanding. That's why we offer competitive pricing to ensure that you get the most value for your investment.
2. Customer Service: Our team is dedicated to providing top-notch customer service. We prioritize your needs and work efficiently to ensure a seamless junk removal experience, just as Bree Kahn-Wetzel attested in her review.
3. Experience: With years of experience in the junk removal industry, we know how to handle various types of items and situations. Our expertise ensures that your home's junk removal process is smooth and hassle-free.
Common Junk Items Removed: When it comes to staging your Tacoma home, decluttering is key. Here's a list of common junk items we can help you remove:
Broken or outdated decor
Excess belongings
Construction debris
In conclusion, when embarking on the home staging journey in Tacoma, remember that a clutter-free space is essential to leaving a lasting impression on potential buyers. 99 Junk Removal is your reliable partner in achieving a well-staged and inviting home. Contact us today by clicking here to schedule an appointment, calling 253-722-4285, or texting the same number. Let us help you create a memorable first impression that leads to a successful home sale.