Are you planning to renovate your home in Redmond? Renovations can be exciting, but they can also generate a lot of junk and debris. Fortunately, 99 Junk Removal can help! Our professional and affordable junk removal services will make your renovation project stress-free.
At 99 Junk Removal, we understand that home renovation projects can be daunting. That's why we're committed to providing reliable and hassle-free junk removal services. We'll remove any unwanted items from your home, including old furniture, appliances, construction debris, and more. Our team will arrive promptly and handle everything from start to finish, leaving you with a clean and clutter-free space.
We take pride in offering exceptional customer service, and we always go above and beyond to ensure our clients are satisfied. Brenna Steller, one of our happy customers, said, "Very quick and professional service. Price is great. Employees asked if they should remove shoes to come into my home, which was very thoughtful. Would highly recommend this business!"
Our services are not only affordable but also eco-friendly. We are committed to protecting the environment by recycling and donating as much as we can. This means that you can feel good about hiring us to remove your junk and debris.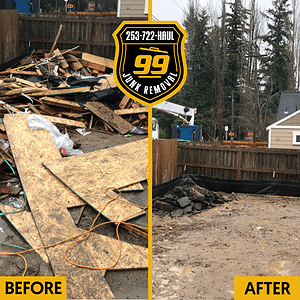 Here are some of the most common items we can remove during a home renovation project:
Construction debris
Drywall and insulation
And much more!

Ready to get started on your home renovation project? Click here to schedule an appointment, call us at 253-722-4285, or text the same number. We're here to help you make your renovation project as stress-free as possible.
Don't let the junk and debris from your home renovation project pile up. Contact 99 Junk Removal today to learn more about our professional and affordable junk removal services in Redmond.