Are you tired of stepping over boxes and piles of junk in your Renton garage? Do you feel like you're running out of space, and need a solution to declutter and organize your belongings? Look no further than 99 Junk Removal! Our experienced team is here to help Renton residents tackle their garage clutter and reclaim their space.
With our affordable and reliable junk removal services, you can say goodbye to unwanted items and hello to a clean and organized garage. Whether you have old furniture, broken appliances, or just a lot of general clutter, we have the tools and expertise to get the job done quickly and efficiently.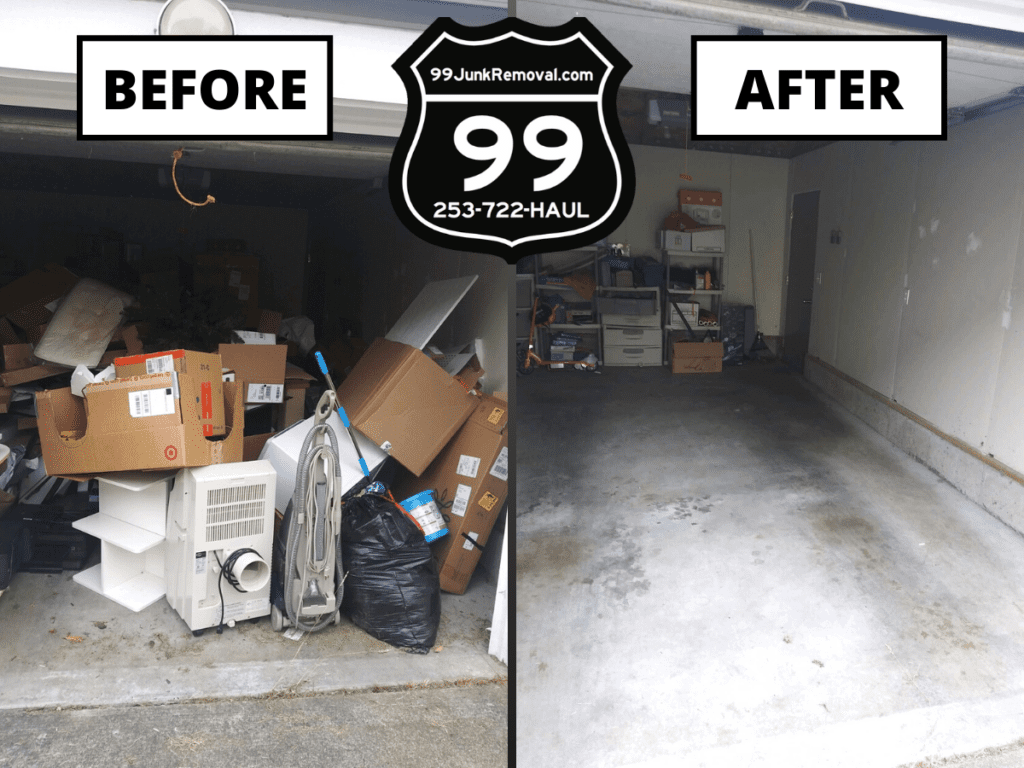 At 99 Junk Removal, we pride ourselves on our exceptional customer service. We understand that your time is valuable, which is why we offer flexible scheduling options to fit your busy schedule. We'll work with you to find a convenient time to remove your unwanted items, and we always arrive on time and ready to work.
When you choose 99 Junk Removal, you can trust that you're getting the best value for your money. We offer transparent pricing based on the items you need removed, so you know exactly what you're paying for. And with our affordable rates, you can feel confident that you're getting a great deal.
Here is a list of common items we can remove from your garage:
Appliances
Electronics
Boxes and bags of junk
Scrap metal
Yard waste
Bicycles
Tires
Tools
Building materials (lumber, drywall, etc.)
Exercise equipment
Car parts
Lawnmowers
Snowblowers
Old sports equipment
Don't just take our word for it – Renton resident Chelsea Murphy had a great experience with our team. She writes, "Scott and his crew are downright amazing! Quick, responsive, professional and trustworthy. I needed a large amount of junk removal services to clear out 30+ years of clutter for an estate sale and each time Scott was able to squeeze me in to his schedule and his crew arrived on time. They work quickly, and are MUCH more affordable than others I had looked in to. No need to look elsewhere, you won't be disappointed."
Ready to tackle your garage clutter and transform your Renton home? Contact 99 Junk Removal today to schedule an appointment. Click here to schedule an appointment, or call or text us at 253-722-4285. Let us help you declutter and organize your space with ease and affordability.