In the heart of Fife, residents understand the importance of a clutter-free environment for a fresh start. A tidy living space not only enhances the aesthetics but also has positive psychological effects on individuals. At 99 Junk Removal, we're here to share the significance of decluttering and how our expert Fife junk removal services can pave the way for a rejuvenated living experience.
Customer Testimonial: Gerardo Capo's words echo the sentiments of many of our satisfied clients. He shared, "Awesome experience. Called and they were able to accommodate for same day pick up. Transparent pricing based on item description over the phone. Highly recommend. Will definitely use their services again in the future." Gerardo's feedback resonates with our commitment to excellence and efficient service delivery.
The Psychology of Decluttering: Imagine walking into a home where every item has its place, and the living spaces are free from unnecessary clutter. Such an environment has a direct impact on our mental and emotional well-being. Decluttering allows us to let go of physical and emotional baggage, leading to reduced stress levels, improved focus, and enhanced overall satisfaction.
Benefits of Choosing 99 Junk Removal: When you opt for our Fife junk removal services, you're choosing a partner dedicated to your well-being and comfort:
1. Efficient Process: Our same-day pick-up option, as mentioned in Gerardo's review, ensures that your space can be decluttered promptly, providing you with an immediate sense of accomplishment.
2. Transparent Pricing: We believe in honesty and transparency. Our pricing is based on item descriptions provided over the phone, ensuring you receive fair and accurate estimates without any hidden costs.
3. Reusable and Responsible: As responsible members of the Fife community, we prioritize sustainable practices. Items in good condition are donated or recycled whenever possible, contributing positively to the environment.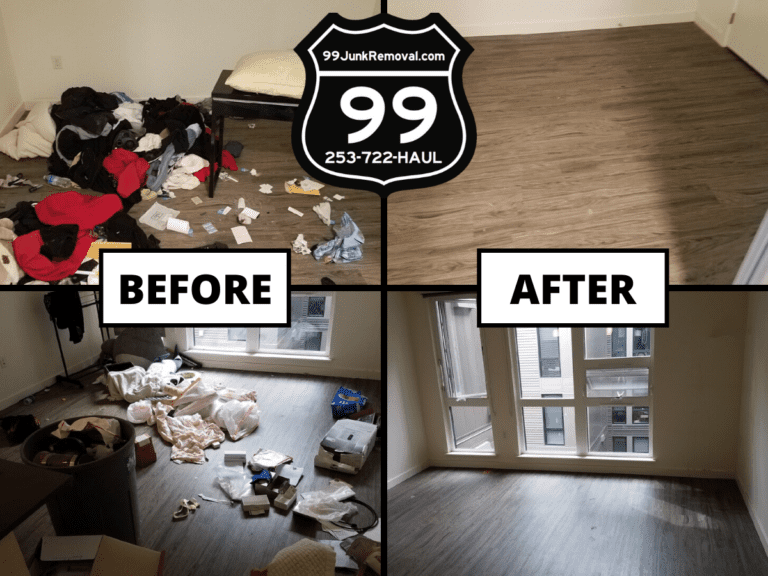 Common Items We Remove: Our Fife junk removal services cover a wide range of items, including:
Construction debris
Household clutter
Embrace a Fresh Start: By decluttering your Fife home, you're opening the door to new beginnings. The process not only revitalizes your living space but also creates room for positive energy and a clear mindset. At 99 Junk Removal, we're honored to be part of your journey towards a decluttered, harmonious home.
In conclusion, the power of decluttering extends beyond the physical space—it affects our mental and emotional well-being. Experience the positive effects of a clutter-free environment with 99 Junk Removal's efficient Fife junk removal services. Contact us today by clicking here to schedule an appointment, calling 253-722-4285, or texting the same number. Let us help you take the first step towards a fresh start in Fife.