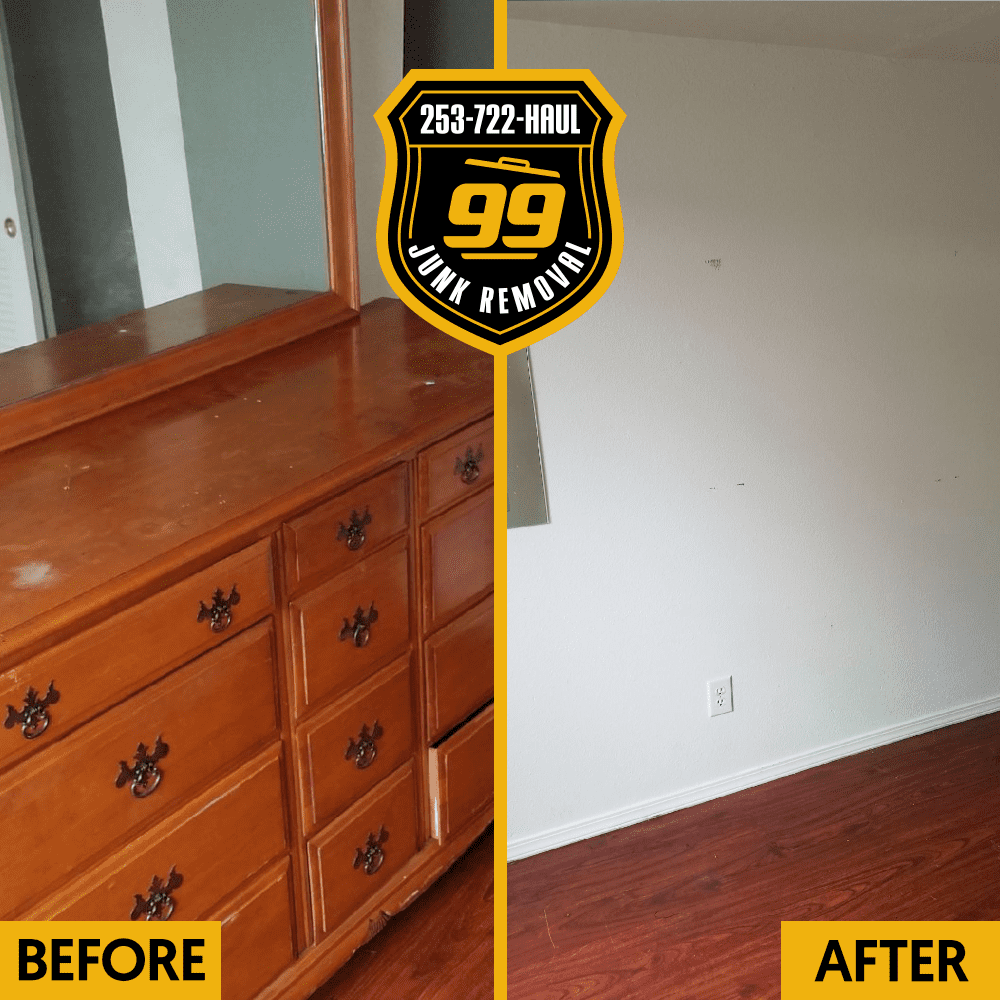 There comes a time when every homeowner or renter decides to replace their old, worn-out bedroom furniture with something new and fresh. Recently, a resident of a third-story apartment in Kent, WA, found themselves in this situation and decided to hire us for their mattress removal in Kent. They were eager to remove their old mattress, headboard, and other bedroom furniture but faced the challenge of navigating the items down multiple flights of stairs. That's when they reached out to 99 Junk Removal, a locally owned junk removal company in the Seattle area, for assistance.
Our team of experienced professionals arrived at the Kent apartment, ready to tackle the job. We began by carefully disassembling the bedroom furniture, taking extra care to avoid any damage to the surrounding walls and floors. Next, we strategized the best approach to maneuver the bulky mattress and headboard through the narrow hallways and staircases, ensuring that both the items and the apartment complex were treated with respect.
Working efficiently and safely, our team successfully transported the mattress, headboard, and disassembled furniture down the three flights of stairs. Throughout the process, we maintained open communication with the apartment resident to keep them informed and ensure their satisfaction with our progress. Once all items were removed from the apartment, we loaded them onto our truck and prepared for proper disposal.
At 99 Junk Removal, we are committed to environmentally responsible practices. In this case, we were able to recycle the mattress and any other recyclable materials from the bedroom furniture. By doing so, we not only helped our client declutter their living space but also contributed to keeping reusable materials out of landfills.
With the old bedroom furniture and mattress removed, the resident of the Kent apartment was free to enjoy their newly updated space. The once-crowded room now felt open and inviting, ready to accommodate the new furniture that would soon arrive. Our client expressed their gratitude for our quick and efficient service, which saved them the time and effort of attempting the difficult task on their own.
If you find yourself facing a similar challenge, remember that 99 Junk Removal is here to help. Our team of professionals serves communities in and around Seattle, providing efficient, environmentally responsible, and compassionate junk removal services. Call today for a free, no-obligation quote. Our crew will visit your property, assess your needs, and provide you with a no-obligation quote. If you agree with the price, our team will start removing your items right away! Contact us at 253-722-4285 to learn more.