Welcome, White Center residents!

Are you planning a home renovation project and concerned about the disposal of construction waste? Look no further than 99 Junk Removal. We understand the challenges that come with home renovations and we're here to streamline the process for you. In this blog post, we'll discuss how our junk removal services can ease the process of home renovation for White Center residents. We'll also explore the types of junk often produced during renovation and how 99 Junk Removal can efficiently handle it.
The Benefits of Junk Removal during Home Renovation
Before we delve into the details, let's explore the benefits of incorporating junk removal services into your home renovation project. By efficiently removing construction waste, you can maintain a clean and organized worksite, ensuring safety and maximizing productivity. Additionally, decluttering the space allows for better workflow, easy access to tools, and a more enjoyable renovation experience. At 99 Junk Removal, we're here to provide reliable and professional services to simplify your White Center home renovation journey.
Types of Junk Generated during Renovation
During a home renovation, various types of junk are typically generated. These may include:
Demolition debris, such as broken tiles, drywall, or flooring.
Construction materials, like wood scraps, metal, or concrete.
Old appliances or fixtures that are being replaced.
Packaging materials, including cardboard boxes or plastic wraps.
Unwanted furniture or items that no longer fit the new design.
Identifying these types of junk will help you plan for efficient removal and ensure a smooth renovation process.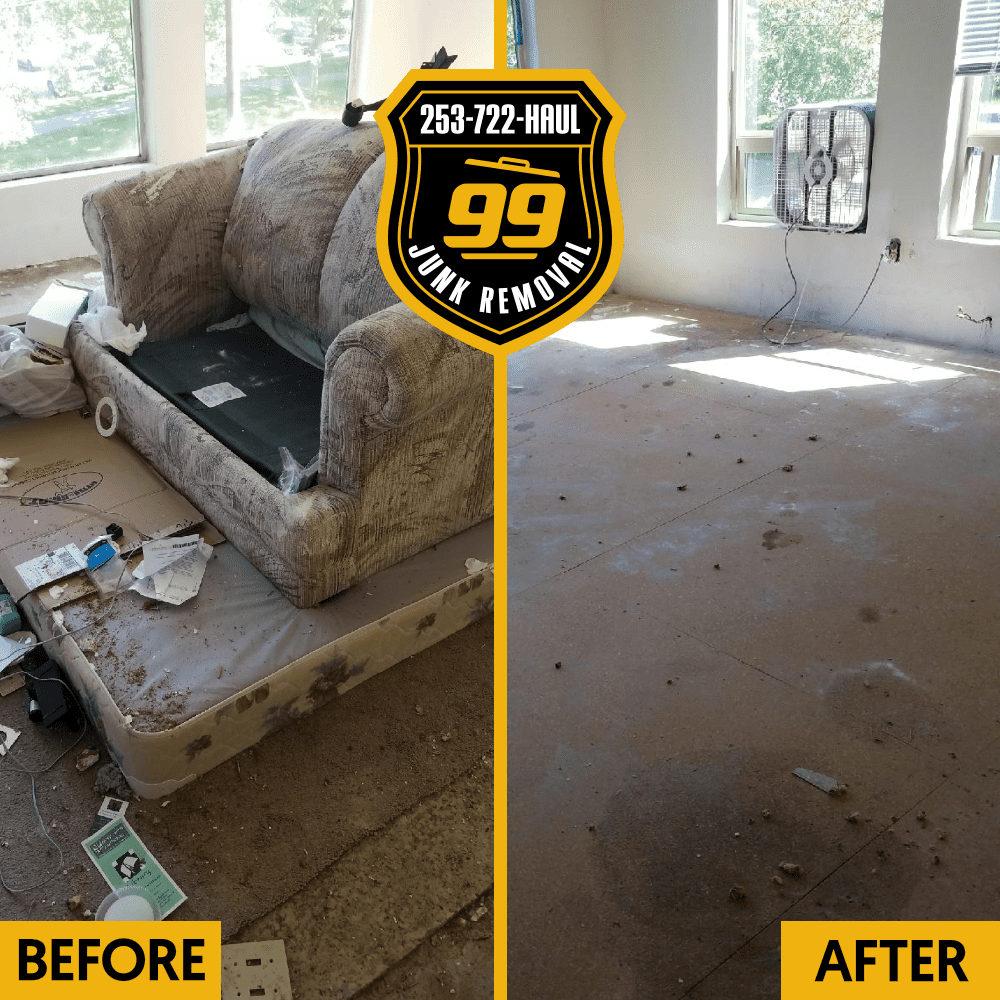 Customer Testimonial – Natalie Gerson
Don't just take our word for it! Hear what our satisfied customer, Natalie Gerson, had to say about our junk removal services. She left a five-star Google review, stating, "Needed an old couch picked up and disposed of. Communication was prompt and friendly and the guys were professional. A pleasure to work with and would absolutely use them again. The man I spoke to on the phone to schedule the pick up thanked ME for the opportunity… that's how you know they're good." We pride ourselves on providing exceptional customer service to White Center residents like Natalie.
Efficient Removal of Renovation Waste
At 99 Junk Removal, we specialize in efficiently handling renovation waste in White Center. Our trained professionals will safely and responsibly dispose of the various types of junk produced during your home renovation. We understand the importance of maintaining a clean and organized worksite throughout the process, ensuring a smooth workflow for contractors and homeowners alike. Let us handle the removal, so you can focus on the exciting transformation of your home.
Sustainable Disposal Practices
In addition to efficient removal, we prioritize sustainable disposal practices. We strive to recycle and donate as much as possible, minimizing the environmental impact of renovation waste. Our commitment to responsible disposal ensures that your renovation project aligns with eco-friendly practices, making a positive contribution to the White Center community and the environment.
Schedule Your Junk Removal Service with 99 Junk Removal
Ready to streamline your home renovation project in White Center? Schedule your junk removal service with 99 Junk Removal today. Simply click here to schedule an appointment or call/text 253-722-4285. Our professional team will work with you to accommodate your renovation timeline and ensure a seamless removal process.
Simplify Your Home Renovation with 99 Junk Removal
Simplify your White Center home renovation by partnering with 99 Junk Removal. Our reliable and efficient junk removal services will help you maintain a clean and organized worksite, while ensuring proper disposal of construction waste. Click here or call/text 253-722-4285 to schedule an appointment and experience the convenience of 99 Junk Removal during your home renovation journey.