Property managers in Maple Valley have a demanding role that encompasses various responsibilities, one of which is maintaining the appearance and functionality of the properties they oversee. Junk removal is often a significant challenge for property managers, whether it's clearing out abandoned items, handling construction debris, or simply keeping common areas clutter-free. At 99 Junk Removal, we understand the unique needs of property managers and offer tailored solutions to make their job easier and properties more attractive.
Customer Testimonial
Tate Dwinnell shared his experience with us: "Knowing the cost of dump fee, time it takes to load/unload, travel time, etc. it seems some companies are interested in ripping you off. Not this one… at least with my experience. It's always expensive to dump building material but this company offered a fair price that was in line with what I was expecting to pay with good communication. Will absolutely go to them if I need junk removal in the future." We take pride in offering transparent and fairly priced services, ensuring property managers can trust us for their junk removal needs.
Challenges Faced by Property Managers
Property managers deal with a range of challenges, and junk removal is a task that can't be ignored. From vacated rental units filled with abandoned items to post-renovation debris, junk removal can be time-consuming, costly, and logistically challenging. Not to mention, maintaining a clean and clutter-free environment is essential for attracting and retaining tenants.
Tailored Solutions for Property Managers
At 99 Junk Removal, we specialize in providing comprehensive solutions for property managers in Maple Valley. Our experienced team understands the specific needs of property management, and we offer flexible scheduling to minimize disruptions. We handle various types of junk, from furniture to appliances, and construction debris to yard waste.
Common Junk Removal Services for Property Managers
Tenant Move-Outs: Quickly clear out abandoned items and unwanted furniture left behind by previous tenants.
Renovation Debris: Efficiently remove construction debris, old fixtures, and materials from renovation projects.
Common Area Cleanup: Keep shared spaces clean and inviting for tenants with regular junk removal.
Eviction Cleanup: Swiftly remove belongings left behind after an eviction, ensuring a smooth turnover process.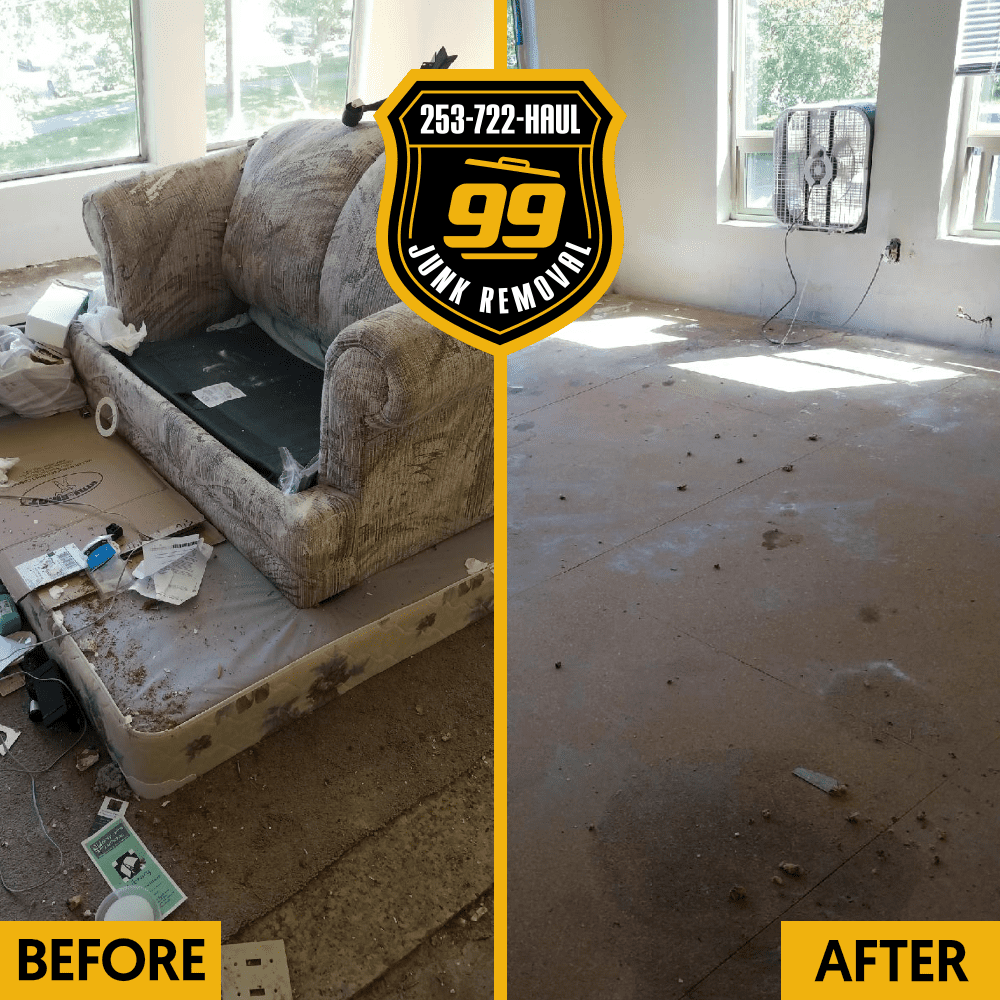 Affordable and Transparent Pricing
We understand that property managers operate on budgets, which is why we offer transparent pricing that takes into account dump fees, travel time, and other factors. Our goal is to provide a fair and accurate estimate that aligns with your expectations, as Tate Dwinnell experienced firsthand.
Experience and Expertise
With years of experience in the junk removal industry, we've fine-tuned our processes to ensure efficiency and professionalism. Our skilled team knows how to navigate the challenges property managers face, and we're equipped to handle various types of junk removal with precision.
Partnering for Success
99 Junk Removal values its partnership with property managers in Maple Valley. We understand the importance of a well-maintained property, and our services contribute to enhancing the overall appeal of your managed spaces.
Streamline Your Property Management with 99 Junk Removal
For property managers in Maple Valley, junk removal doesn't have to be a headache. Let us take care of the clutter, debris, and unwanted items, allowing you to focus on other aspects of property management. Schedule your junk removal appointment today by visiting our website and clicking here to schedule an appointment, or give us a call at 253-722-4285. Trust us to make your properties more appealing and manageable with our reliable junk removal services.