As Labor Day approaches in beautiful Lake Tapps, residents gear up for a well-deserved long weekend. Amid the festivities, it's easy for clutter to accumulate, leaving you with a post-holiday cleanup challenge. At 99 Junk Removal, we're here to help Lake Tapps residents maximize their holiday enjoyment and minimize the stress of cleanup with our specialized junk removal services.
Customer Testimonial: Jordan Offutt shared his exceptional experience with us, highlighting, "Scott was incredible! He came even though I wasn't on his schedule and gave a fair price. Everything was loaded and gone in under a half an hour. Super friendly. Super professional." Jordan's words underscore our commitment to exceptional service and efficiency, even during unexpected times.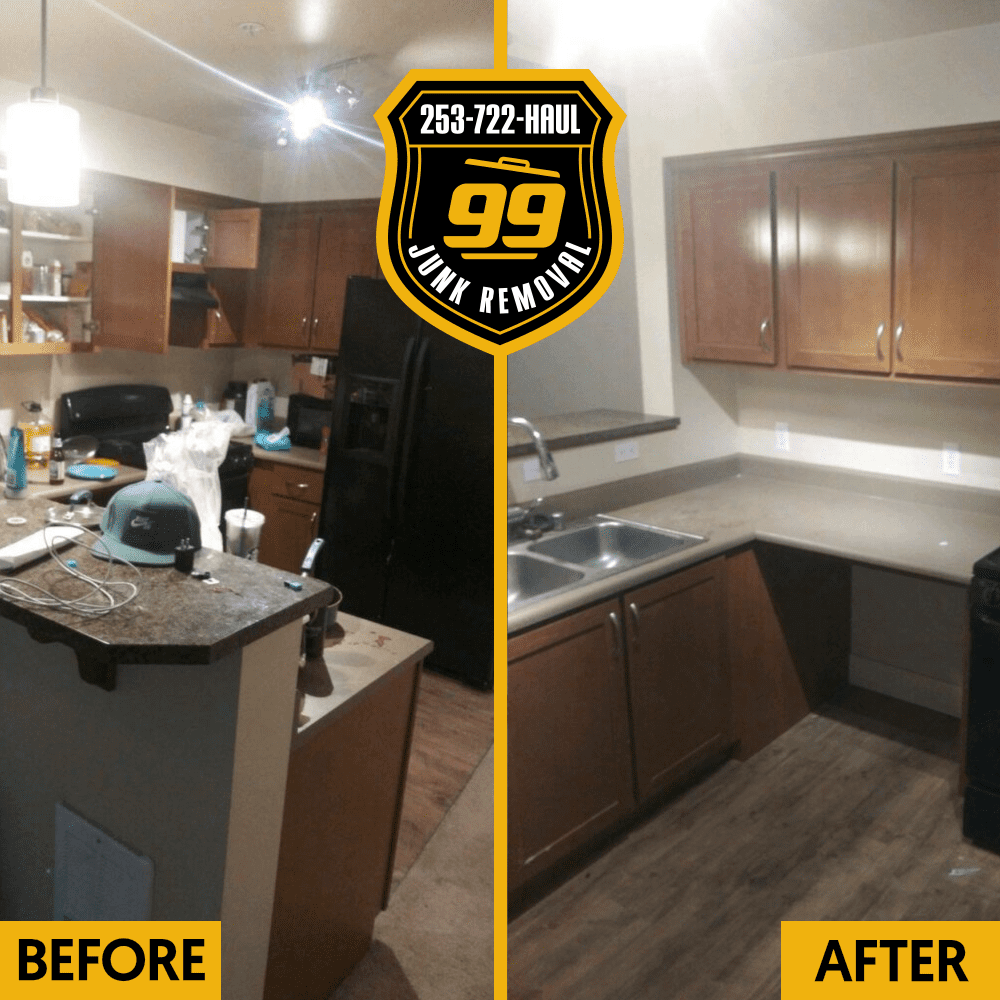 Making the Most of Labor Day: Labor Day presents a valuable opportunity to unwind and spend quality time with loved ones. However, the aftermath of gatherings and celebrations often leaves behind a trail of clutter. Instead of spending your precious time off cleaning, let us handle the cleanup while you focus on relishing the holiday moments.
Why Choose 99 Junk Removal: Our Lake Tapps junk removal services offer several compelling reasons to choose us for your Labor Day cleanup:
1. Efficiency: Just as Jordan experienced, our team works diligently and swiftly to ensure a hassle-free experience. We respect your time and ensure that your space is restored promptly.
2. Fair Pricing: We believe in providing fair and transparent pricing for our services. Our estimates are tailored to your specific needs, ensuring you receive the best value for your investment.
3. Friendly and Professional: Our team embodies both friendliness and professionalism, ensuring a positive interaction throughout the junk removal process.
Common Post-Holiday Items We Remove: Our Lake Tapps junk removal services cover a wide array of post-holiday items, including:
Party decorations
Disposable tableware
Food waste
Unwanted gifts
Broken or worn-out items
Reclaim Your Time and Space: Labor Day is meant to be a time of relaxation and rejuvenation. Don't let the clutter dampen your holiday spirit. With 99 Junk Removal by your side, you can reclaim your time and space, ensuring a seamless transition from celebration to tranquility.
In conclusion, as Lake Tapps residents prepare for Labor Day festivities, remember that the aftermath doesn't have to be a daunting task. Experience the benefits of a stress-free cleanup with Lake Tapps' trusted partner, 99 Junk Removal. Recharge this holiday by contacting us today to schedule an appointment. Make the most of your long weekend by clicking here, calling 253-722-4285, or texting the same number. Let us help you create a clean and clutter-free environment that allows you to fully enjoy the holiday and its relaxation.