What Is Kent Junk Removal?
Looking for local junk removal services in Kent Washington? 99 Junk Removal has you covered. With a highly experienced crew on staff we are prepped and ready to haul your junk.
Call For An Appointment And Estimate
253-722-4285
Here at 99 Junk Removal our goal is make your junk removal process fast and pain free, all while doing it at an extremely affordable price. Currently serving the greater Kent, Wash., area we handle all jobs, big or small. Old furniture? Appliances? Mattresses? Carpet? Tile? Yep, our Seattle junk removal pros do it all.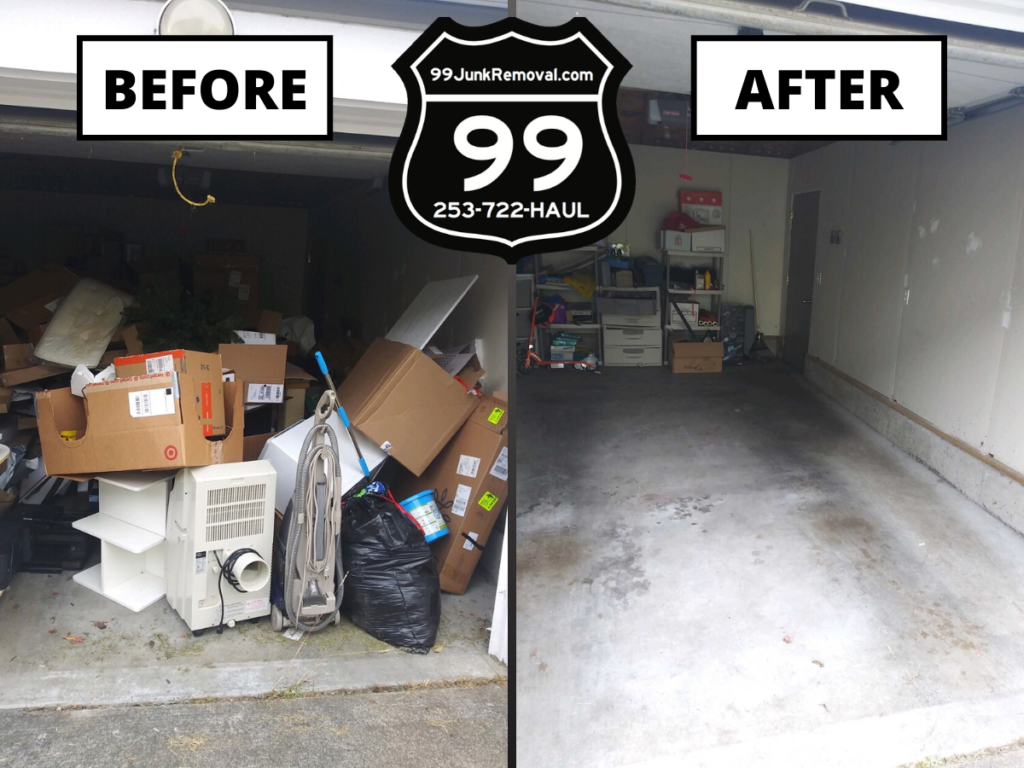 Not only do we provide Kent, Wash., with residential trash pick up services but we also cater to commercial businesses of all sorts. The types of companies we provide our services to includes but is not limited to:
property management companies
storage facilities
furniture stores
and much more
Whether you're in need of removing simple residential items left over from a recent move or big items after an office clean out, 99 Junk Removal is the one for the job.
Just like you, we care about our environment and community in Kent, Washington. In an effort to reduce our environmental footprint while also helping those in need we put additional effort into rummaging through the trash we've collected after each haul. After the collection and hauling of your goods is complete we carefully sift through your items and sort out any items that can be recycled and/or donated to churches, shelters or organizations in need. We ask only that you have your junk ready for hauling upon arrival and we'll quickly and efficiently take care of the rest.
We are truly committed to providing the best junk removal services Kent, Wash., has to offer. Our helpful and friendly staff can be in your area today! To sign up for services please contact us here or call today to schedule an appointment and estimate 253-252-5813.
Junk Removal in Kent for Both Residential and Commercial Properties
Our junk removal services cover a wide range of needs and customers. We can handle:
Residential cleanups
Estate cleanups
Large appliance pick-up
Commercial site cleanups
Small picks (mattresses, couches, etc.)
No junk removal is too small our large for us. Whether you just have a few electronics you need to get rid of properly or a whole office to clean out, we can help. And commercial customers save 25-50% on average by using our services for junk removal.
There's no reason to take on the added stress during a move of also trying to sort through all your own junk and figure out how you're going to dispose of it. You may not realize it, but there are certain items that require special handling or that can be repurposed and reused and don't need to be thrown away.
It's understandable that all those extra details are too much hassle for people trying to move a home or office. Luckily, you can leave it to experts when you work with 99 Junk Removal. We'll handle the junk while you just worry about your move, home or office. We can help single residences or apartments all the way up to large offices who have a large amount of junk to haul out. No job is too big or small, so no matter what kind of junk removal services you're in need of, reach out to us today to get started removing junk from your life.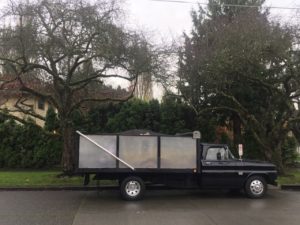 Why Hire 99 Junk Removal?
You don't have to go out of your way for junk removal. 99 Junk Removal services Seattle and the surrounding areas, including Kent. Our service area includes:
We can even offer junk hauling for the following areas:
Our services cover the Kent area entirely, so no matter where you are in Kent, if you need help hauling junk, call us to see how we can help.
There is no reason to go far out of your way for junk removal when you can easily get local services for junk removal. You don't need to do any of the hauling yourself when you work with us. We are proud to serve the Kent, Wash., area for a wide range of junk removal needs. 99 Junk Removal is your local junk removal provider for Kent, Wash.
We Offer Affordable Junk Removal in Kent
Call us at 253-252-5813 to get an estimate on your price for junk removal in Kent, Wash..
If you are looking for the lowest junk removal prices around the Kent, Wash., area, look no further than 99 Junk Removal. Our experience in this area has made us experts on junk removal pricing. We can provide the services and expertise you need to get junk out of your life for good.
What We Will Haul
We haul a huge range of items. Whether it is an office building or a home or apartment, we can haul whatever junk you have. The type of residential or commercial property doesn't matter – we can haul whatever you have.
The following list is only a partial sample of what we can haul for you. We haul items including:
Appliances
Careting
Furniture
Hot Tubs
Mattresses
Refrigerators
Scrap Pieces
Old Tires
TVs
Yard Waste
Wood
Desks
Partitions
Computres
Monitors
Chairs
Packaging Materials
Wiring
And More!
Some of these items are too bulky and awkward for individuals to haul without special equipment or large vehicles. Other items require special removal procedures because they can't just get thrown in the trash like any other item (a great example of this is computers and electronics).
You shouldn't try hauling all of this material yourself. Some of it can be dangerous to remove or require special handling. Call us and you can get experts to help you with hauling large and/or difficult materials that are just too much of a hassle for you to manage yourself.
Plus, by working with us you take a huge weight of stress off your shoulders while moving or cleaning out a home or office. Imagine the relief of knowing you no longer have to worry about junk removal during your moving or cleaning process. All you need to do is gather the junk for us and let us do the removal for you.
Are you cleaning out a home and have a lot of bulky furniture to get rid of? Call us for help. Or maybe you're cleaning out an office building and have a lot of computer equipment that is out of date and no longer even works. This type of junk can not only be difficult to remove but also unsafe. It requires special handling and disposal techniques that we would be happy to help with. Contact us today to get rid of your junk.
How We Haul: Our Trucks for Junk Removal in Kent
There are some items that require special handling in order to remove. One excellent example is computers.
If you are getting rid of computers for any reason there are many concerns you may have. You may want to clean out a hard drive before throwing the computer away to ensure someone can't get access to your information through a discarded computer. You have to make sure there is no information on left on the hard drive. Things like addresses, tax returns, passwords and account numbers can be stored on the computer even after you unplug and discard it. This can open you up to vulnerabilities if someone with malicious intent takes the computer and tries to get the data off it.
The Federal Trade Commission recommends three ways of disposing of old computers:
Recycling the computer
Donating the computer
Reselling the computer
If you recycle your computer, you may be able to go to the company that manufactured the computer to do so. Many such companies will help you recycle their computers or components and even have programs set up for doing this. You should go to the computer manufacturer's website in order to find information about recycling.
Another resource for computer recycling is the Environmental Protection Agency's electronic product recycling programs. The agency can help you recycle your computer responsibility and in a way that is environmentally friendly.
You might also look into local Kent, Wash., programs and agencies that offer help with computer and electronics recycling. Many local governments have programs or facilities set up for specifically this purpose.
Of course, you can also donate or resell your old computer instead of recycling it. The worst option is to just trash the computer, as it has components that are harmful to the environment if the computer sits in a dump. Chemicals and other materials could get into the ground and water that way, polluting the local area.
If you donate or resell your computer, first make sure the computer is completely wiped of all your personal data and information. You may want technical help doing this so that you ensure your computer truly is clean before you give it away or sell it.
If you have a preferred charitable organization, you can start by going to them and seeing if they have any programs for taking computers. If they have a need for computers, you may be able to contact the charity directly and offer your computer. Otherwise, you can go online to donate or sell your computer instead of trashing it as part of a junk removal.
Other difficult items can include things like bulky furniture that is hard to move at all, let alone get to a dump. That is where we come in, providing all the equipment and manpower you need to get rid of that heavy, bulky furniture. Whether it's couches or mattresses or anything in between, we can help get rid of furniture you no longer want or need.
Our Commitment to the Environment
When we work on junk removal, we also keep the environment in mind. We don't just want to haul away junk and create a trash pit somewhere else. We are locals just like you and we value the environmental health of the Kent, Wash., area.
That's why as part of our process we sort through the junk we haul to see if anything can be donated or recycled. This comes at no extra cost to you; it is simply a part of how we do business as a responsible local junk removal company in Kent, Wash. We work with charitable organizations in the region who can use some of the items we haul away as junk. We make sure the items are in good condition and clean before donating the to organizations in need. This not only helps the organizations who need the items, but also puts your junk to good use. Rather than dumping stuff in a landfill, you can help your local community by choosing 99 Junk Removal and allowing us to donate some of your junk items that are in good condition.
This is all part of our commitment to the local area where we live and work. We value the Kent area just as much as you. We want to work to help with junk removal while being responsible residents of the Kent area.
Schedule Junk Pick up near Kent
Contact us today to get started on your junk removal for Kent, Wash. Give us a call at 253-252-5813 to get started today.
(15 votes, average: 4.07 out of 5)

Loading...