As the weather warms up and summer approaches, it's the perfect time to clear out any clutter and maximize your business space. Whether you're a small retail store or a large office building, 99 Junk Removal can help you get rid of unwanted items quickly and efficiently. Junk Removal Everett for businesses is a snap with 99 Junk Removal.
We understand that managing a business is time-consuming, which is why we offer convenient and flexible scheduling options. You can schedule an appointment through our website, or give us a call or text at 253-722-4285. Our friendly and professional team will arrive on time and ready to work, ensuring a hassle-free experience.
At 99 Junk Removal, we specialize in removing all types of junk from your business, including old office furniture, electronic waste, and construction debris. We can also help with appliance removal, such as refrigerators or dishwashers, and dispose of them in an environmentally-friendly way.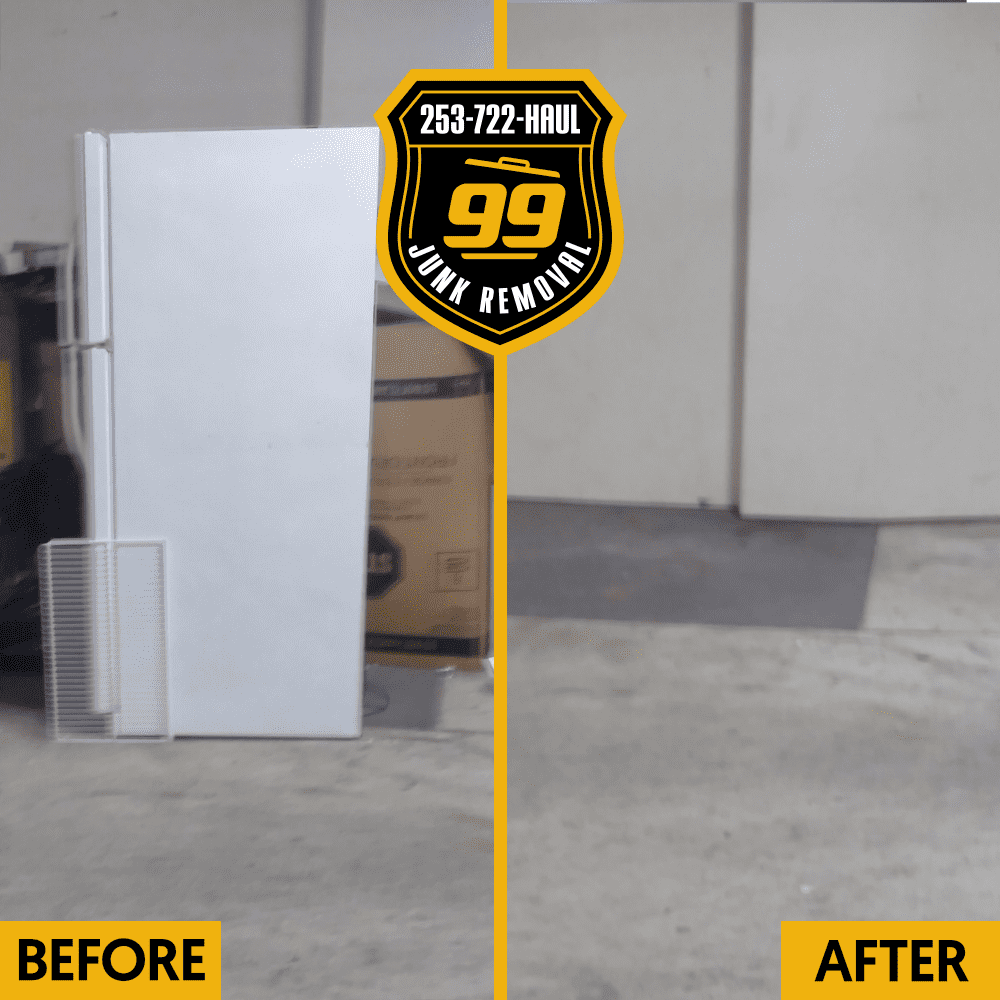 Our team is equipped to handle any size job, whether you have a few items or a large amount of junk that needs to be removed. We take great care to ensure that your property is not damaged during the removal process and we even offer shoe covers to protect your floors.
In addition to our affordable pricing, we are proud to offer exceptional customer service. We understand that every business has unique needs and we strive to provide personalized solutions for each of our clients. You can trust us to handle your junk removal needs with the utmost care and attention to detail.
Common types of junk we can help you remove from your business include old office furniture, outdated electronics, and construction debris. We can also help with appliance removal, such as refrigerators or dishwashers. Whatever your junk removal needs are, we are here to help.
List of Common Junk Items:
Old Office Furniture: desks, chairs, filing cabinets, and conference tables.
Electronic Waste: old computers, printers, monitors, and other outdated equipment.
Appliances: refrigerators, microwaves, and other kitchen appliances.
Cardboard and Paper Waste: boxes, packaging materials, and old documents.
Construction Debris: drywall, wood scraps, and other leftover construction materials.
Metal Scrap: pipes, machinery, and other metal scraps.
Broken or Unwanted Signage: old or outdated signs, posters, and banners.
Office Supplies: old and unused office supplies, such as paper clips, staples, and folders.
Unwanted Inventory: old or unsold inventory, overstock, and returned items.
Old or Broken Fixtures: light fixtures, shelving, and other outdated or damaged fixtures.
Don't let clutter and unwanted items take up valuable space in your business. Contact 99 Junk Removal today to schedule an appointment and clear space for summer. With our reliable and professional junk removal services, you can rest assured that your business will be ready for the season ahead.