If you're feeling overwhelmed by the clutter in your Bellevue home or office, you're not alone. It's easy for unwanted items to accumulate over time, but getting rid of them can be a hassle. That's where 99 Junk Removal comes in. Our experienced team offers affordable and efficient junk removal services for residential and commercial clients in Bellevue.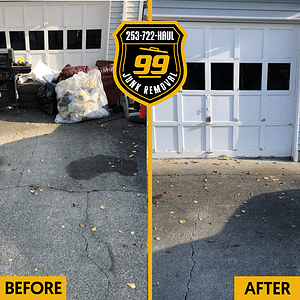 We understand that decluttering your space can be a daunting task, but it doesn't have to be. Our team will work with you to make the process as easy and stress-free as possible. We offer a wide range of services, including:
Residential junk removal: Whether you're cleaning out your garage, basement, or attic, we can help you get rid of unwanted items like old appliances, furniture, and electronics.
Commercial junk removal: We can help your business declutter by removing old equipment, office furniture, and other unwanted items.
Construction debris removal: If you're renovating your home or office, we can help you dispose of debris like drywall, concrete, and wood.
No matter the size or complexity of the job, we're here to help. Our team is experienced, insured, and ready to tackle any junk removal challenge. We'll arrive on time, assess the situation, and provide you with a no-obligation quote before starting any work. You can trust us to handle your items with care and dispose of them responsibly.
Here are some common items that we can remove for you:
Appliances, including refrigerators, ovens, and washing machines
Furniture, including couches, chairs, and mattresses
Electronics and e-waste
Yard waste, including branches and leaves
And much more!
At 99 Junk Removal, we pride ourselves on our affordability, exceptional customer service, and commitment to the environment. We recycle and donate as much as possible, ensuring that your items are disposed of responsibly. Plus, we offer same-day and next-day service, so you can get rid of your unwanted items quickly.
Don't just take our word for it – here's what one of our satisfied customers had to say:
"I was very happy with the service I received from 99 Junk Removal. The team was friendly, professional, and respectful of my home. They were able to remove all of my unwanted items quickly and efficiently, and the price was very reasonable. I would definitely recommend them to anyone in need of junk removal services." Becky, Bellevue resident and 99 Junk Removal customer.
Ready to declutter your Bellevue home or office? Contact us today to schedule your appointment. You can click here to schedule an appointment, or call or text us at 253-722-4285. We look forward to helping you get rid of your unwanted items and reclaim your space!