Welcome, SeaTac families!

As the back-to-school season approaches, it's the perfect time to prepare your home for a fresh start. If you're looking for reliable and efficient junk removal services in SeaTac, look no further than 99 Junk Removal. We understand the importance of creating a clean and organized space for your family, and we're here to help. In this blog post, we'll discuss how families in SeaTac can utilize our junk removal services to declutter and prepare for the upcoming school year.
The Benefits of Back-to-School Cleanups
Before we delve into the details, let's explore the benefits of back-to-school cleanups. Clearing out unnecessary clutter not only creates a visually appealing space but also promotes productivity and reduces stress. By removing unwanted items, you can make room for new school supplies, create dedicated study areas, and streamline your daily routines. Our SeaTac junk removal services make the process seamless, allowing you to focus on what matters most—your family's well-being.
Evaluate and Sort Your Items
To begin your back-to-school cleanup, start by evaluating and sorting your items. Take a systematic approach and assess each room or area in your SeaTac home. Determine which items are no longer needed, outgrown, or broken. Categorize these items into donation, recycling, or disposal piles. By doing so, you'll have a clear understanding of what needs to be removed, and our professional team can efficiently handle the disposal process.
Common Back-to-School Clutter
When it comes to back-to-school clutter, certain items tend to accumulate over time. Here are some common items you may want to consider removing during your SeaTac cleanout:
Outgrown clothing and shoes
Excess school supplies and textbooks
Old sports equipment or musical instruments
By identifying these common clutter items, you can prioritize their removal and create a fresh space for the upcoming school year.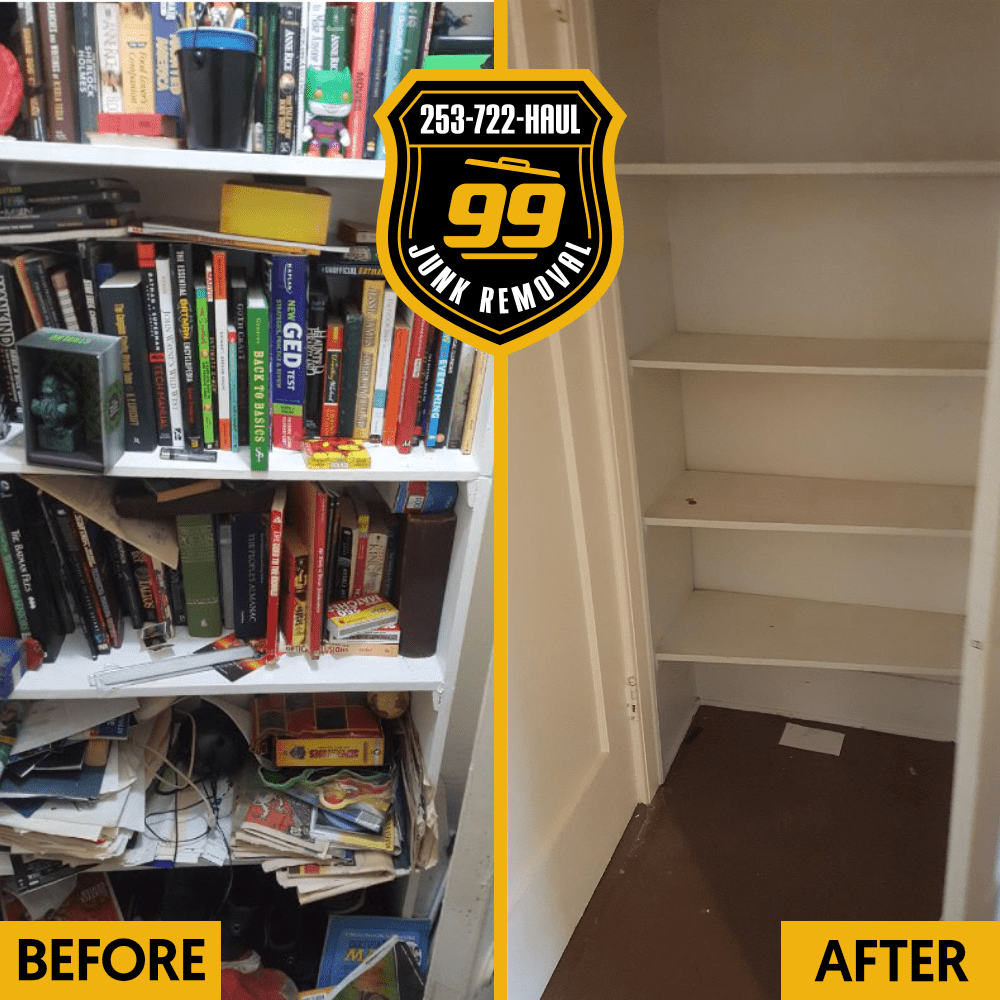 Customer Testimonials
Don't just take our word for it! Hear what our satisfied customers have to say about our SeaTac junk removal services. Elizabeth BB left a five-star Google review, stating, "This company was great: same-day service, prompt, polite, and reasonably priced. I will definitely use them again!" Additionally, Tate Dwinnell praised our fair pricing and excellent communication in their five-star Google review. At 99 Junk Removal, we strive to provide top-notch service and customer satisfaction to families in SeaTac.
Schedule Your Back-to-School Cleanup
Ready to experience the benefits of a clutter-free space for the back-to-school season? Schedule your SeaTac junk removal service with 99 Junk Removal today. Simply click here to schedule an appointment or call/text 253-722-4285. Our professional and courteous team will work with you to accommodate your schedule and provide an efficient cleanup process.
Affordable and Convenient Service
At 99 Junk Removal, we understand that affordability is important to SeaTac families. That's why we offer competitive rates for our junk removal services, ensuring you receive excellent value for your investment. Additionally, we prioritize convenience by offering same-day service whenever possible. We strive to make the junk removal process hassle-free, so you can focus on creating a welcoming and organized environment for your family.
Embrace the Back-to-School Season with 99 Junk Removal
Embrace the back-to-school season in SeaTac with a clutter-free and organized home. With our reliable and efficient junk removal services, you can create a fresh start for your family. Schedule your appointment today by clicking here or calling/texting 253-722-4285. Prepare for a successful school year with 99 Junk Removal in SeaTac!