Affordable Junk Hauling Services in Seattle, Washington
Has your old mattress, couch, or TV been sitting and collect dust in Seattle while you put off visiting the dump? The junk removal Seattle team at 99 Junk Removal is happy to lend a hand. 99 Junk Removal will solve all of your junk removal problems. All you need to do is make an appointment.
Call 253-722-4285 to Schedule Junk our Junk Removal Service
We will lift and haul your trash away, and make sure it is disposed of in the most eco-friendly way possible.
Quick and efficient junk pick up in Seattle
Our goal at 99 Junk Removal is to make your junk removal process quick, efficient, and pain-free. We serve the Seattle, WA area, handling all jobs, big or small. From disposing of a single unwanted item, to hauling away major remnants from an office move, our waste disposal team is equipped to handle a full range of jobs.
We have the vehicles, equipment, and manpower to haul away most waste that you can imagine; including furniture, appliances, and household waste. Our team understands the laws surrounding your item removal. Your junk will be hauled to the proper place that will benefit the most people, rather than being needlessly tossed into a landfill.
We offer very affordable Residential and commercial junk removal and disposal services.
Our focus is on great customer service and true transparency for all of our valued customers. Often, customers pay for their junk pickup and disposal or removal without knowing the breakdown of what they are paying for. Most junk haulage services charge by the truck load, and by how much space ends up being taken up by your junk. With 99 Junk removal, we can give you a full breakdown of our charges upfront, and we can assure you that there are no hidden charges or fees.

A List of Items We Haul in Seattle:
Appliances: Your big old Microwave that was once a daily part of life can easily become an annoyance. Large Microwaves can't be tossed into the garbage, and should not be sent to a landfill. We'll make sure your useable Microwave is donated. Your unuseable Microwave will be recycled for parts. Old appliances contain parts that can damage the environment if disposed of improperly. We'll be happy to drop off your old appliances at participating recycling centers so you don't need to worry about them.
Furniture: Hauling heavy furniture is an annoyance that you do not need; getting it through the door, down the stairs, and into a vehicle that may or may not be big enough. We will ensure that you are free of your unwieldy furniture, and that, if possible, someone else will benefit from it. There are a number of charities and not-for-profit organizations that will appreciate your old furniture in a variety of ways. A couch, a kitchen table and chairs, an old bookshelf, these items will easily find new life through donation and repurpose.
Refrigerators – Refrigerators contain chemicals within them that are difficult to dispose of. They shouldn't be thrown carelessly into a landfill, as they can damage the environment. We will take extra care in the disposal of your old, unwanted refrigerator. We will assess whether it can be fixed and cleaned up for donation, or should be dismantled for parts at a recycling center. Whatever the outcome, it will be up to us and your old bulky refrigerator will be out of your hair.
Mattresses: An estimated 40 million mattresses are disposed of in landfills in the US every year. Each mattress takes up 40 cubic feet of space. They cannot be resold and they cannot be donated. There are limited options for recycling, but we will ensure that your mattress ends up in the best hands possible so that it doesn't contribute to the landfill problem. Mattresses can be recycled for wood, polyurethane foam, wood and steel coils. There's still a lot of life left in your old mattress and we want to make the most of it.
Carpets, Textiles, and Rugs: While you could technically dump your old carpet, or rug in Seattle, the city highly encourages you to recycle them. And we would be happy to do that for you. The fibers could easily be reused and re-manufacturing into highly useful items such as new carpeting or insulation. When old textiles are in good condition, they can be recycled into rags for wiping down car engines, and cleaning houses. Those in turn can be recycled into paper when they are ready to go. Your old rugs and carpets still have a lot of life left in them, and we will ensure that they end up in the right place so that they can be recycled effectively.
TVs and other electronics: In Seattle it is illegal to throw away electronics. They contain materials that can be harmful to humans, animals, and the environment. However, they can be recycled! Recycling televisions can produce materials that can be reused and recycled including glass, plastic, precious metals, and copper wiring. We'll ensure that your electronics are disposed of properly where they can find new life through recycling.
Hot Tub: Hot tubs most definitely will not fit in your blue recycling bin. They are large and bulky and we don't expect you to have to deal with it. We're ready and able to haul your hot tub away, and dispose of it properly. We will assess if it's fixable, or if any of the parts can be recycled or donated. We want to ensure that if it's useable, it will have a use, and won't just be tossed into a landfill.
Tires: Old tires sitting in landfills are a big problem for the environment. In many states it's actually illegal to dump tires at a landfill because of the amount of space they consume, and because they aren't biodegradable. They'll be taking up the same amount of space in 100 or 1000 years.
There are actually a lot of uses for old tires as they can be recycled and creatively repurposed. They can be shredded and used for playground and athletic field surfaces. Interestingly, shredded tires are often used in landfills to cap, close, or daily cover landfill sites. Most often tires are burnt and used to create asphalt.
On the more creative side, old tires can be used for athletic practice, tire swings, and even sustainable housing.
Other Items We're Happy to Haul:
Scrap
Old Tires
TVs
Yard Waste
Wood
Desks
Partitions
Computers
Monitors
Chairs
Packaging Materials
Wiring
Etc
No job is too small or too big for 99 Junk Removal. We service a wide range of customers in Seattle, WA. Our highly experienced crew understands the challenges that may arise from each of these types of items and are ready to take on your most complicated junk removal jobs. Whatever you need to get rid of, our team can make it all disappear. We do it all. Our crew offers friendly and professional removal services to Seattle, WA and surrounding areas.
We know your time is valuable; we pride ourselves in completing all jobs quickly and efficiently. All that you will need to do in preparation of your junk removal is collect all of your items in one area so we will have a clear picture of the amount of work. This gives us the ability to provide you with a fast and pain-free service that will exceed your expectations.

This is our commitment to our customers, community, and environment
Not only do we take care of your junk, we also care about the environment, and the community. $99 Junk removal offers environmentally friendly junk disposal services. We understand that not all junk is trash; we know that some items still have some value for someone in the community. We avoid adding to the growing landfill problem by sorting through everything that we collect. We send some items to recycling, and others to donation.
We deeply care about the community and want to give back. We don't want to send items to the dump that may find a new home with someone who will appreciate them. When we haul your junk away, you can rest easy knowing that it's going to someone in need. If you have a specific charity, not-for-profit, donation site, or new owner in mind for your old items, let us know and we'll haul your items there.
We take a thorough look at each load and assess to see what is useable, fixable, or recyclable. We avoid adding to landfills whenever possible. Our hauling crew is not only dedicated to you the customer, but to the community that we're a part of. Our team has years of experience and the knowledge. What might look like a pile of junk and a hassle to the average person, has endless possibilities for our community.
Why choose 99 Junk Removal in Seattle?
Our crew is dedicated to helping you rid yourself of unwanted junk as quickly as possible at a very affordable price point.
We are committed to helping Seattle residents become clutter free in an environmentally friendly way.
We are committed to giving back to the community. Before disposing we recycle or donate all usable materials to those in need in the community.
We pride ourselves on our transparency. You can rely on our professional team to work with you to provide you with the service that best suits your needs. We break down your full bill so you know exactly what you're paying for.
Our team is professional, highly experienced, and has the skills to take care of all your junk removing needs quickly and efficiently.
Our team is Friendly and always go above and beyond to provide great customer service to our valued customers.
Let 99 Junk Removal help clear your clutter and keep you stress free. We do all the heavy lifting and hauling of your junk.
We value your time and work quickly and neatly, but we aren't on the clock and don't charge by how long it takes to remove your junk. Plus, we work to establish a genuine relationship with every client. We want to make sure you are happy with your experience.
Contact Us for Junk Removal in Seattle – 253-722-4285
Whether you only need a few items picked up at your residence, or are taking care of an office clean out, 99 Junk Removal is the one for the job. Please call us today. Rest assured that you are not just helping yourself, but you're helping your community and the environment. Our helpful and friendly staff are ready to help you today!
Call us and schedule your appointment today – 253-722-4285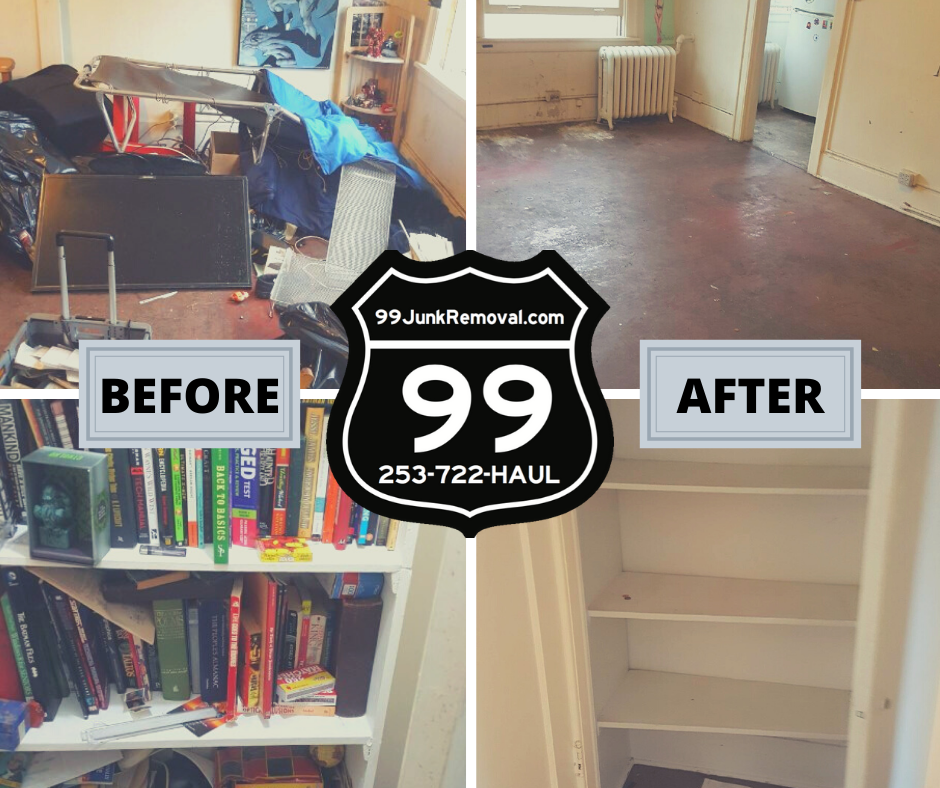 (4 votes, average: 3.25 out of 5)

Loading...