Affordable Junk Hauling Services in Mercer Island
Do you have piles of junk cluttering your home and life? It's too easy to shove old, broken, and bulky items into a corner to try and forget. We can help ease your life and todo list! With extensive knowledge of local dumping ordinances and a passion for customer service and the community, 99 Junk Removal is your choice for hauling old household items in Mercer Island.
Our Mercer Island Junk Removal Service is very simple and convenient. Just leave it up to us and our junk pick up Seattle service. We'll get rid of your junk in the most environmentally and community friendly way possible. We always donate useable furniture and items to charities, shelters, thrift stores, and not-for-profits and we recycle whenever we can. We only dispose at the dump when it is absolutely necessary. We are proud of the work we do. We want every customer to walk away happy, satisfied and junk free.
Contact us with any questions about these or any other junk removal services you can think of:
253-252-5813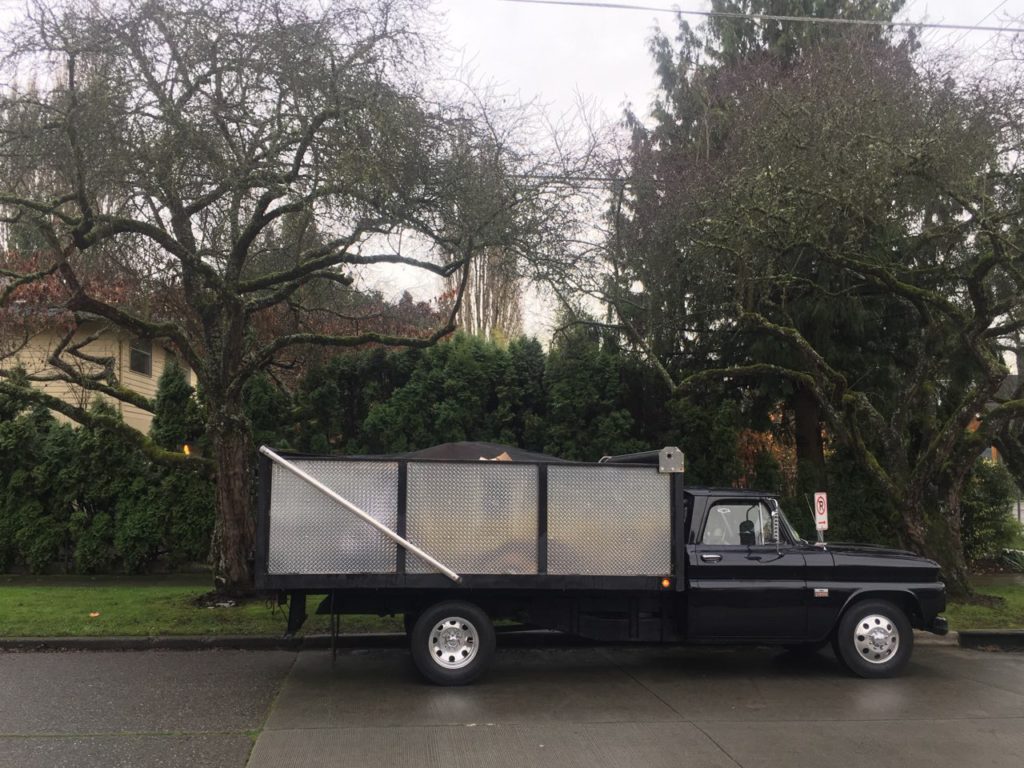 Stress Free Appliance and Furniture Removal in Mercer Island
Life is busy and putting off chores, like a trip to the dump, is natural. Locating a vehicle that will fit your items, researching the best place to take them, and finding manpower to help with the heavy lifting only adds stress and anxiety. Hire 99 Junk removal to take care of the heavy lifting.
We want to simplify the process. Finding space and freeing up your life is only a phone call away. All we need from you is all of your junk in one place, and easy access for our truck. Our experienced and trained team will work quickly and efficiently. All of your junk will be exiting your life before you know it, in our 6×8 foot truck beds.
Contact 99 Junk Removal and your items will be gone and you can move on with your life.
Items We Will Haul in Mercer Island:
Furniture: A comfy futon, a lovely couch, or an ornate dining room table can add color and pleasure to your life. But old furniture can take up space and collect dust and clutter.But unwanted furniture can add clutter and dust to your home. Taking heavy pieces of furniture to a donation center adds stress to you life. We have a network of not-for-profits and charities that would gladly accept your pieces. We can help you be free of your unwieldy furniture, and we will hand it off to someone who will appreciate it.
Refrigerators: Show of hands, how many people have purchased a new refrigerator, and moved the old refrigerator into the garage or a corner of the back yard to be forgotten? Yes! We will take extra care in the removal and disposal of your old refrigerator. If it's useable, it will be donated to those in need. If it can be repaired, we'll ensure it goes to someone who needs it. Otherwise it will be dismantled for parts at a recycling center. Whatever happens, it will be gone from your garage.
Appliances: Kitchen gadgets can be a chore to get rid of. Larger microwaves can't be thrown away and are hard on the environment if sent to a landfill. Old but working appliances like toasters and crockpots can be donated so they will end up with someone in need. We'll take your appliances and make sure they are recycled or donated whenever possible.
Mattresses: Getting rid of an old mattress can be very stressful. They cannot be donated are difficult to resell. They won't fit in most vehicles. We have seen more than one mattress unsuccessfully fastened to the top of a car. It can also be difficult to recycle a mattress. Several recycling facilities that once accepted mattresses aren't in service any longer. But mattresses can be recycled for materials, polyurethane, foam, wood, and steel coils. We know what to do and we will make sure your mattress goes to the right place.
Electronics: Often it is illegal to toss electronics in the garbage, and it's never a great idea. Often, old electronics contain materials that can be harmful to humans, animals, and the environment. Instead, they can be recycled for parts like glass, plastic, metals, and copper wiring. We will make sure that your electronics or disposed of correctly through participating donation or recycling sites.
Carpets, Textiles, and Rugs: Washington State encourages citizens to recycle their used carpets, textiles and rugs. Fibers from old carpets and rugs can be recycled into new carpeting or insulation. Older textiles can be recycled around the house to wipe down furniture, walls, and cars; and finally recycled into paper when they are ready to go. We will ensure that your old rugs and carpets are given new life through recycling when it's time to say goodbye.
Hot tubs: Logically, a hot tub is going to be especially difficult to get rid of. They are bulky and heavy and are incredibly difficult to move. If left alone, an old, broken, hot tub may sit on the back porch, indefinitely. We are ready and capable of disposing of your old hot tub properly. We will assess if it is useful and/or fixable, and we will ensure it's recycled if possible.
Old tired are so large and toxic that they have created a problem for landfills and the environment. Tires aren't biodegradable, and when thrown into landfills, they take up tons of space so it's actually illegal in most states to dump them. Since they aren't going anywhere, research into what to do with them is actively happening.
There are actually several ways to reuse old tires. Creative uses for old tires include swings, athletic exercise equipment, and even sustainable housing.
Sometimes tires are used as playground or athletic field surfaces after being shredded. Most frequently they are burnt and used to create asphalt.
Other Junk We Will Remove:
Scrap
TVs
Yard Waste
Wood
Desks
Partitions
Computers
Monitors
Chairs
Packaging Materials
Wiring
And many more!
We Care about Our Community and the Environment in Mercer Island
Eco-Friendly Junk Removal
Much of the junk sitting and decaying for years in our landfills could actually have been recycled. 99 Junk Removal uses recycle facilities as often as possible, about 85% of the time. Our crew members have extensive knowledge and training in local disposal laws, so we know how to disperse your items effectively. We work so you can rest assured that your items will be off to the most environmentally friendly solution.
Community Friendly Junk Removal
We are committed to keeping your usable old items out of landfills because sustainable living and the environment are important to us. After completing a pickup we sort through all of the junk to pull out treasures such a usable appliances, textiles and furniture for donation. All of these items we drop off at local church organizations, shelters, and thrift stores. We want to be sure your items will end up with someone who needs them, so we work with several organizations locally.
Affordable Junk Hauling and Disposal in Mercer Island
It is easy to sneak in hidden fees in independant junk removal. We are committed to upfront invoicing and transparency for our customers. We will give you a full breakdown of all costs so you know exactly what you are paying for. We stand by the cost effectiveness of our services and our transparency. Cleaning out your clutter is already a chore, so we want to make it as easy and affordable as possible for you.
We offer a full breakdown of charges up front. You'll find no surprise hidden fees when the job is completed.
We'll be happy to answer any questions you might have, so make an inquiry today.
99 Junk Removal Will Take on Any Job, Big or Small
Hauling junk of any size can be a daunting task. We are more than happy to take on any job ranging from one item, to a larger scale office move.
Residential Junk Removal in Mercer Island
When looking into hiring a junk removal crew, a good customer experience may not be first on your list of requirements, but our friendly team at 99 Junk Removal will ensure that your residential pick up runs smoothly and efficiently. You'll be blown away how quickly we can load up your junk and get it out of your hair.
Commercial Junk Pick up in Mercer Island
We usually save commercial cleanup clients upwards of 25% to 50% per job. We can help with hauling the remnants of a business move, and are happy to take away furniture from a company remodel. Our crew is equal to any hauling task big or small, and are up for the challenge.
Here is our list of services:
Residential cleanups
Estate cleanups
Large appliance pick-up
Commercial site cleanups (Save on average 25%-50%)
Small pickups (mattresses, couches, etc, nothing is too small!)
Customer Support is Important to Us
We want our customer service to be great and memorable. We want to make sure every interaction you have with the 99 Junk Removal team is a great one. We want to simplify your life as pleasantly as we can.
Your only responsibility is picking up the phone, calling and giving us easy and organized access to you junk. That's everything! We will take care of everything else. We will do the lifting, hauling, packing, sorting and transporting of your junk to recycling, donating, and the dump.
We work hard so our customers walk away with full confidence in their choice of 99 Junk Removal. Our great feedback from our customers makes us confident that we are achieving our goals.
Call us today For Junk Removal! 253-252-5813
If you live or work in Mercer Island and have junk removal needs, we want to help. Our team of professionals is eager and ready to remove your old household clutter quickly and efficiently. You can put your feet up and rest assured that your items will be recycled and donated whenever possible. Let your household clutter make a positive impact with those in need.
With our excellent service, we'll bring you stress relief and convenience. With our commitment to transparency, you will feel secure in the knowledge that you got great service at a fantastic price.With our dedication to transparency, you can feel secure knowing that you got fantastic service at a great price.
Just call us now. Our friendly staff is on the other end ready to make an appointment today